Lots of girls(not just plus size) avoid jeans . Denim can be uncomfortable , and most times they never fit quite right . Having gone through this problem many times myself I know how hard it can be to find the right pair. So I decided to show you sum options that work well on most plus size shapes. your options are not limited to these but they are a good start.
The skinny
Allot of people will say that bigger girls should stay away from skinny jeans, but DON'T listen to them. Skinny Jeans are so in right now and more than likely they will be for a while . There is no reason any plus size girl should not have a few pairs of great fitting pairs of skinny jeans in their wardrobe. When looking for the perfect pair of skinny's keep fit in mind . Yes your skinny jeans should be skinny, but they should not be so tight that you can't breathe . Alos remember that if you find a fab pair that you like but don't fit quite as skinny as you would like don't discard them you can always have them tailored for around $5-$9.
Z. Cavaricci Plus Size Skinny Jeans, Rinse Wash
Macys $58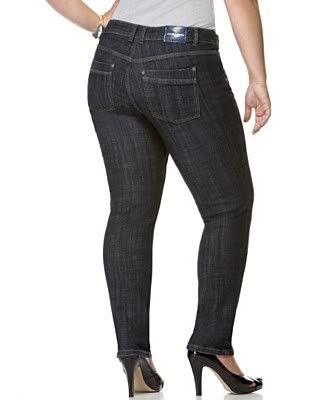 Wide legs & Trousers
Trousers and wide legs are perfect for almost all body types. With a simple shoe change from a flat to a heel a well fitted pair can take you from day to night easily.trousers and wide leged denim are also good for sliming your tummy or evening out top heavy figures.
Right Fit denim trouser
Lane Bryant
$39
Cate Wide Leg Trouser
Svoboda
$118
Trendy Jeans
When it come to trends it's best not to splurge. What you like this season you may hate next season. Another thing about trends is they don't always work out. Depending on body type or the way you wear them trends may be fab or a mess so just have fun expirmenting with them .
Distressed Boyfriend Cropped Jean Avenue $38

Acid Wash Skinny Jeans
Torrid
$39